October is Down Syndrome Awareness month. When did you first become aware of people with Down syndrome?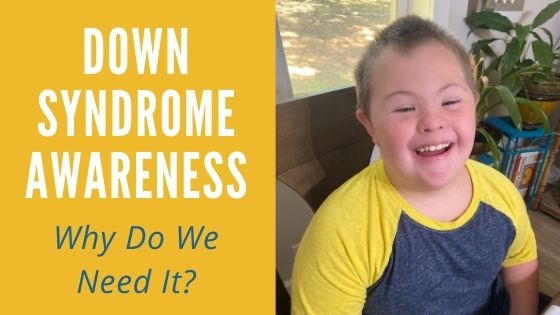 When I was a girl, many people with Down syndrome were still living in institutions. In fact, right up the road from my house, at what is now a large city park, was the Georgia Retardation Center which housed patients with physical and mental disabilities for some 30 years before being closed in 1997.
My Awareness Awakening
The first time I recall meeting someone with Down syndrome was when I was in 6th or 7th grade. We were on a family trip to Louisiana to visit my uncle and his wife. While we were there, we attended a wedding. There was a young woman with Down syndrome at the wedding dancing and having fun.
In my professional public relations career, I had several clients serving individuals with developmental disabilities. At a client event, I met several individuals with Down syndrome. Afterwards, I remember thinking I wouldn't mind having a child with Down syndrome. 
Well, from my lips to God's ears. A few years later, I gave birth to a beautiful baby boy and seven days later, I learned he had Down syndrome.
Since then, I discovered a whole community of people living and thriving with Down syndrome. I find it very sad that I didn't know much about this special population until I become part of that community.
Need for Down Syndrome Awareness
It is amazing that the world at large still doesn't really know much about people with Down syndrome. It is disheartening that OB/GYNs still provide outdated descriptions of what to expect when having a child with an extra chromosome.
It's disgusting that more than 75 percent of pre-term diagnosis for Down syndrome end up in abortion.
It is incredulous that we are still advocating for equal protection to life, inclusion, and even being an organ recipient.
We are just beginning to discover how people with Down syndrome learn and how to best maximize their skills so they can live independent lives. 

That is why we need a Down syndrome awareness month – so the world could understand what gifts these people are to the world and give them equal opportunity and respect. Because their lives matter too.